P/M M.L. Loudermilk, Piping & Band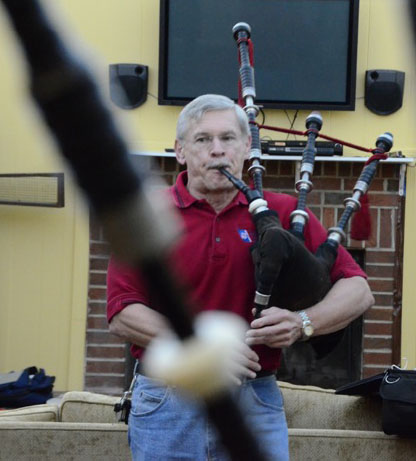 On February 28, 2013, M.L. Loudermilk was elected the Pipe Major of the John Mohr MacKintosh Pipes and Drums by his fellow JMMPD band members. M.L. is also the Pipe Major of the United States Coast Guard Pipe Band, having assumed that duty in May of 2009. He has been a member of the USCGPB since 2004 and a Director since 2006. A U.S. Coast Guard veteran, he performed Search & Rescue operations out of CG Base NYC and earned the C.G. Combat Action ribbon for service in Viet Nam in 1970 and 71. He is currently serving in the Coast Guard Auxiliary at Lake Lanier, GA.
Born and raised in South Carolina, M.L. lived and worked in Georgia, New York, Tennessee and Oklahoma before taking on a job for 2 years in Saudi Arabia. In 1983, he and his wife Sally, and daughter, Ida, moved to Alaska where they lived for 22 years. In 2005 ML retired as an administrator for the Anchorage School District and he and Sally moved to Georgia where they currently live, NE of Atlanta.
M.L. has had more than 26 years of pipe band experience with five onhealthy.net pipe bands. During his career he has played more than 1,200 performances and 180 piping competitions including the World Pipe Band Competitions in Glasgow, Scotland, in Grade III. He has performed numerous times on television, in movies, at college football half-time shows and university graduations and recently with "Celtic Woman Live" at Atlanta's Fox Theater and on their DVD.
M.L. began his pipe band experience as a drummer before switching to pipes. He has been a side drummer, bass drummer, piper, Pipe Corporal, Pipe Sergeant and Pipe Major, as well as band President. He has also produced, directed and performed in numerous pipe band stage concerts and has attended more than 80 highland games and 10 piping schools.
In his non-piping life, he has a Bachelor Degree and a Master's Degree in Organizational Management. A certified Master Diver and SCUBA Instructor, he has taught and certified more than 2,400 diving students. As a licensed pilot he flew search and rescue missions with the Civil Air Patrol while in Alaska. His hobbies include running, weight lifting, motorcycling, shooting, swimming, boating and working in his wood-working shop.